The City of Ankeny Fire Department was recently contacted about open burning occurring within the city limits. They indicated that there was absolutely no open burning allowed in the city limits. The photo below was taken after the city had been notified and shows open burning occurring at the Deer Creek land development east of Ankeny where houses are being built by Regency Homes. This area was recently annexed into the city. The construction crews continued to burn for over a week after the fire department was notified. I guess if you work for a big land developer the laws don't apply. See the City ordinances below concerning open burning.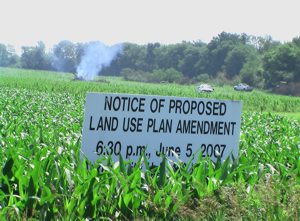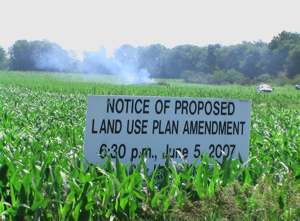 8.12.140 Refuse burning or incinerating--Unlawful acts.

It is unlawful for any person to burn or incinerate, or permit the burning or incineration, of any refuse within the city. Except as provided in Section 8.12.150, this section shall apply to all refuse, as defined in subsection I of Section 8.12.010, and shall specifically include all wastepaper, boxed market waste, garden wastes, trees, tree limbs, automobiles and parts thereof, and any and all materials other than materials used as a fuel in a furnace or boiler. (Prior code § 27A.4 (part))


8.12.150 Nonapplicability of Section 8.12.140.

A. It is specifically provided that Section 8.12.140 shall not apply to outdoor fireplaces or barbecue grills used solely for entertainment or the preparation of food. Such outdoor fireplaces or grills may be used at other than daylight hours, but shall not be used for the burning of refuse or other combustible waste. They shall be located fifteen feet from any buildings or combustible materials and, if of a permanent nature, must have one-fourth-inch screens in or on top of the chimney.

B. The prohibitions of Section 8.12.140 shall not be applicable to the use of any incinerator operated under a permit granted by the health officer; or to the burning of leaves and similar types of plant material grown or deposited by trees or other vegetation upon the premises during the period commencing November 16th and ending on November 30th of each year. Provided further that the open burning of leaves and vegetation is prohibited after the first day of January, 2000.

(Ord. 1275 § 1, 1997; prior code § 27A.4 (part))


8.12.160 Open fires permissible when.

The health officer is authorized to permit an open fire only for the following purposes and subject to the provisions set forth in this chapter:

A. City crews operating under the authority of the department of public services;

B. The instruction of public employees in methods of fighting fires;

C. On private property used for industrial purposes for the instruction of employees in the methods of fighting fires;

D. For public gatherings under the legitimate sponsorship of civic, fraternal, religious, educational or similar organizations.

(Prior code § 27A.4 (part))


From the Transcript of a P & Z Meeting
REGULAR MEETING
PLAN & ZONING COMMISSION
COUNCIL CHAMBERS - 410 W. 1st Street
FEBRUARY 17, 2004
Item #6



Open burning

.

Burning is not allowed in the city

.

The fire department is

hesitant to allow any flexibility

regardless of the distance from other residences.

I don't see any provisions for open burning of brush by construction crews or land developers. Try to get a permit to open burn and see how the City of Ankeny replies to your request. The answer will be NO! This is an example of irresponsible city hypocrisy. Contact the fire department and City manager and let them know how you feel.
Email Carl Metzger at cmetzger@ci.ankeny.ia.us

City Hall
410 W 1st St
Ankeny, IA 50023
(515) 965-6407 fax: (515) 965-6412


Contact the Fire Chief currently vacant - redirect to Captain Prowant
Ankeny Fire Department
120 NW Ash Drive
Ankeny, IA 50023
(515) 965-6469 fax: (515) 964-2107